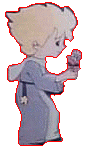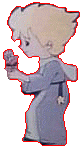 Bonjour mon ami! Welcome to my page. It is, so far, the only page I have seen on the net, which is about the Little Prince animated TV series. You will remember how I have told you about


.
Well, if not, you will want to know more, n'est pas? So catch a flah-min comet past speeh-rahl galaxies to visit the wee planet B6-12.

The Little Prince, in outer space, can catch a shooting star, and sail away. Perhaps one day, he'll come your way! Listen to the theme song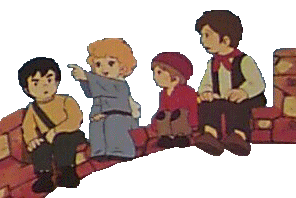 Bonjour mon ami! You remember I have told you about the little prince who can fly all about the universe, oui? And how he rides the flah-min comets to many most fascinating places in space, n'est pas? To spee-rahl galaxies, black holes, past quasars and bousars and con-stell-ah-shons we have never even heard about! Well so now I will tell you how this all first came about, just as the little prince told it to me.
Far, far out in space, beyond our solar system, beyond the Milky Way, beyond the Crab Nebula, where millions upon millions of stars twinkle and all sorts of alien planets spin about them, there is this one very small planet, so small that astronomers have not even given it a name! It is called only B6-12, and on this small world, there is room for only one house. Well, part of a house, en fais. But to the little prince, it is a castle, and he rules here all alone. Still, he does have many loyal and 'appy subjects that greet him every morning.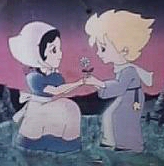 Mon ami, if you want to learn about the little prince, you should visit these other planets!
Picture Gallery
About the Show and Story
Little Prince Links
Video Information
The Space Swift Webring
Email me


Link to me!







Swifty's Space Swift Little Prince Page was last updated March 19, 1999. Copyright 1999 setsuna@lightspeed.bc.ca.